Current Procedure Codes with RVUs Subscription Data File
Optum
---
Find timely, accurate, and value-added information to power your coding, billing and practice management systems with the Optum Current Procedural Codes with RVUs Subscription Data File. Complete with clinically reviewed and abbreviated code sets and proprietary add-on information, you'll have access to essential coding and reimbursement data for the CPT® code set in an updateable, easy-to-use format.

CPT is a registered trademark of the American Medical Association.
Accurate data. Gain confidence in correct code selection the first time.

Quarterly updates. Receive updates four times per year to ensure your system is always HIPAA compliant.

Valuable add-on files. Access additional, value-added information to enhance coding precision, including code change details, modifier crosswalks, Medicare fees, and age/gender indicator edits.
The price of
Current Procedure Codes with RVUs Subscription Data File
does not include add-ons. Add-ons sold separately. Please call for details.
Available Add-on files:
Change Detail File – Change Types, Effective Dates, Replacement Code Crosswalk. (Item # A0205)
Code History - Description, Add Date, Termination Date, Validity Change Date (Item # EA0209)
Modifiers Crosswalk - CPT® to Modifier crosswalk, modifiers and descriptions. (Item # A0202 or A0212)
Medicare Physician Fee Schedule - Complete MPFS Fee Schedule RVUs. (Item # A0201)
Optum CPT® Indicators – Age, Sex, Non-covered, Unlisted, Mod. Exempt., and more (Item # A0204)
Age Range Edits - Beginning Age, Ending Age (Item # EA0207)
Medically Unlikely Edits – Maximum Daily Frequency, Provider, Facility (Item # EA0208)
Current Procedure Codes Category File – Description, Category, Sub-categories (Item # EA0211)
CPT is a registered trademark of the American Medical Association.
CUSTOMERS WHO BOUGHT THIS ITEM ALSO BOUGHT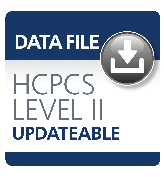 HCPCS Subscription Data File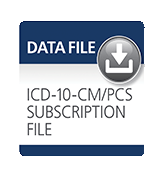 ICD-10-CM/PCS Subscription Data File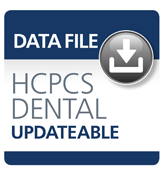 HCPCS Dental Data File