Data files and Web Services
Keep entire code sets regularly refreshed — system-wide. Our data are rigorously reviewed, include proprietary guidance and frequent updates to keep your clinical and administrative systems responsive and efficient. Rely on Optum to help you maintain optimal performance at scale.
---
Flex with a changing industry
Support your information technology (IT) systems and enterprise-wide automation from one central source.
Choose solutions that bring you updated codes throughout the year, add-on content enhancements or
simply select one of our standard data file solutions for a one-time delivery. Our data can help you:
• Streamline health administration activities
• Support telemedicine, home health and emerging virtual health technologies
• Enable analytics, labs, diagnostics, pharmacy and biopharmacy.
We recognize every organization is unique. Optum can work with you to create a data extract to match
your desired specifications.
---
Request a consultation and sample layouts
All fields marked with an * are required.
By clicking the "Continue" button, you are agreeing to the Optum Terms of Use and Privacy Policy
---
Easy implementation with payer and EMR systems
Consumer-friendly descriptions
Simplifies and replaces complex medical terms and technical jargon with common descriptions of medical
services, treatments, procedures and diagnoses.
Core coding
Access essential code set (ICD-10, HCPCS, DRG, CPT®) data enhanced with add-on content including
links, code combinations and reference resources.
Cross coding
Avoid the burden of independently maintaining crosswalk relationships with Optum cross-coding data files.
Optum maintains various crosswalk files for CPT®, ICD-10, HCPCS and revenue codes
Billing
Enhance medical coding, billing and other support tools with Optum billing data, including revenue
codes, complete National Correct Coding Initiative (NCCI) and hospital outpatient (OPPS) NCCI, Medical
Necessity LCDs and NCDs, and a breadth of data content tied to UB-04 billing. These files will help keep
up with regulatory requirements tied to medical coding and billing.
Pricing
From relative values to Medicare pricing, update fee schedules or strengthen contracts using geo-specific
data and CPT® reference tools.
Workers compensation
Access state-specific rules and guidelines, fees or relative value units (RVUs), CPT® codes and state-
specific codes for services rendered.
---
Over
525,000
active digital users*
88%
of the top 40 commercial payers use data from Optum*
Scale automation across your entire system
Optum Web Services for software application users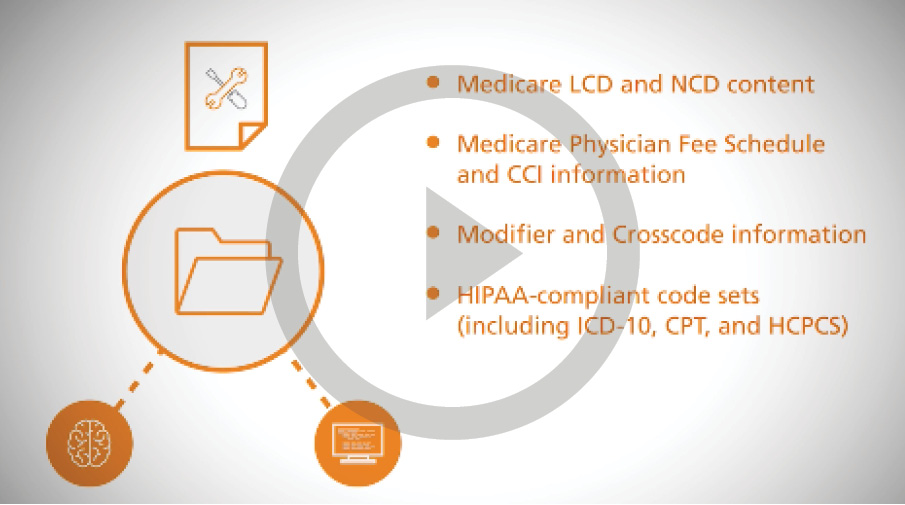 Web Services Product Video
Optum web services is an innovative solution for providing your software application users with the industrys most current and accurate coding content, code searching, and claims scrubbing logic.
---
Explore these helpful resources
Download a PDF of our entire data files portfolio offering.
Download a PDF of our entire web services portfolio offering.
See how our consumer-friendly descriptions can add value to your system or organization.
CPT is a registered trademark of the American Medical Association.
---