DRG Subscription Data File
Optum360
---
Find timely, accurate and value-added information to power your coding, billing, and practice management systems with the DRG Subscription Data File. Complete with clinically reviewed and abbreviated code sets and proprietary add-on information, you'll have access to essential coding and reimbursement data for the DRG code set in an updateable, easy-to-use format.
Accurate data. Gain confidence in correct code selection the first time.

Quarterly updates. Have more time to implement code updates in your systems with quarterly updates.

Valuable add-on files. Access additional, value-added information to enhance coding precision, including crosswalk files from ICD-10-CM to DRG and ICD-10-CM to MDC.
The price of
DRG Subscription Data File
does not include add-ons. Add-ons sold separately. Please call for details.
Available Add-on files:
DRG to ICD-10-CM Crosswalk- Diagnosis Related Group to ICD-10-CM (Item # A0401)
ICD-10-CM to MDC Crosswalk - ICD-10-CM to Major Diagnostic Category (Item # A0402)
CUSTOMERS WHO BOUGHT THIS ITEM ALSO BOUGHT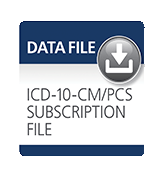 ICD-10-CM/PCS Subscription Data File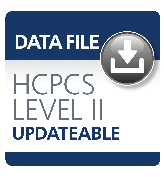 HCPCS Subscription Data File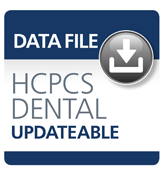 HCPCS Dental Data File